PAVEMENT MAINTENANCE CONTRACTOR IN TRUCKEE
& NORTH LAKE TAHOE
SPECIALIZING IN ASPHALT SEALCOATING, CRACK SEALING AND STRIPING IN THE TRUCKEE, NORTH LAKE TAHOE AREA
Founded in 1965, Robert E. Sutton Company has been providing professional asphalt sealcoating, crack sealing and striping services to both residential driveways and commercial parking lots, in the Truckee, North Lake Tahoe area. With a reputation like no other, you know that our work will be expertly done every time. Learn more about the services we provide below or click here to make a bid!
PAVEMENT MAINTENANCE SERVICES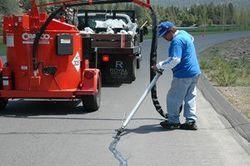 No one likes potholes or uneven asphalt while driving, so make sure everyone is driving safe by filling in cracks! Crack sealing uses tar to fill in the lines of cracked asphalt, potholes, and more to extend the life of your asphalt road and keep those on the roads, safe!
Areas of use such as parking lots, soccer fields, basketball courts and more rely on striping to emphasize boundaries. Robert E. Sutton Co. provides striping services for a variety of uses. Click here to learn more about our striping services in Truckee.